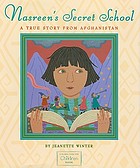 The Jane Addams Peace Association announced the
2010 Jane Addams Children Book Award
today. The awards are "given annually to the children's books published the preceding year that effectively promote the cause of peace, social justice, world community, and the equality of the sexes and all races as well as meeting conventional standards for excellence". It is one of my favorite awards and the winner and honor books are all fantastic choices.
Younger Children
Winner:
Nasreen's Secret School: A True Story from Afghanistan
, written and illustrated by Jeanette Winter
Honor Books:
Sojourner Truth's Step-Stomp Stride,
by Andrea Davis Pinkney & Brian Pinkney
You and Me and Home Sweet Home
by George Ella Lyon and Stephanie Anderson
Older Children
Winner:
Marching for Freedom: Walk Together, Children, and Don't You Grow Weary
by Elizabeth Partridge
Honor Books:
Almost Astronauts: 13 Women Who Dared to Dream
by Tanya Lee Stone
Claudette Colvin
, by Phillip Hoose
Kudoes to committee members for fine choices!